About Us
HGS GROUP is a leading real estate company, specializing in real estate investments and entrepreneurship in Bulgaria. HGS GROUP has been active in Bulgaria for the past five years and has extensive experience and thorough knowledge of the Bulgarian Market. The HGS local staff is highly professional, values transparency, and insists on collaborating with top quality professionals only .
The Management Team:

Mr. Naftali (Tooli) Halevy: Bulgarian in origin, the founder and owner of HGS GROUP brings extensive experience in real estate and business development in Israel and in Bulgaria. Naftali resides in one Neve Zedek's most beautiful houses which he built himself. Naftali specializes in developing projects in the Bulgarian market, enjoying his diverse contacts in all levels of the professional and public sectors.

Mrs. Barbara Paz: Founder and owner of HGS ISRAEL, a real estate marketing and business development company. Barbara manages the marketing and business development for the company. She has worked in the local and foreign real estate market for over 15 years, starting as a real estate investigator for a law firm, continuing with developing the department of international real estate investments at Anglo-Saxon, Tel Aviv. Barbara holds a wealth of experience in commercial real estate and building reinforcements. "I love real estate because as an investment, real estate is the most solid of any investment I know. Real estate may go down, but in the long run, it will always go up again. It will never disappear like some of the stocks I have owned in the past!"

Attorney Daniela Ilcheva: joined the company four years ago, directly from her job as legal consultant to the Plovdiv District Municipality. Daniela is the Director of the Bulgarian team and is actively striving to promote the company's projects both legally and logistically. Daniela specializes in commercial and real estate law including land taxation, planning and zoning, land development, etc. Her experience at the Plovdiv Municipal Authority brings vast knowledge and expertise in carrying out procedures related to the Bulgarian Planning and Building Law. Dani (as everyone calls her) is a true asset to the company.

Maria Dimitrova Nikolova: Maria is the company's administrative manager, responsible for the company's ongoing operations in various activities, including relations with contractors and business partners.

Kiril Georgiev, Accountant : Kiril Georgiev is a senior partner at the prestigious accounting company Capital Garant. Kiril is the HGS personal accountant and financial advisor to the company. The Captain Garant Company advises HGS on an ongoing basis in the areas of accounting, financial planning and optimization in foreign investment structuring.
Why invest with HGS?
HGS GROUP takes full responsibility for all management, implementation and marketing of each project. Our first goal and priority is to guarantee high returns to our investors. As a result we have built a business where investors call our investment house, "a home for investors".
Our company's vision is based on full business partnership with the investors who take a full part in the decision-making process. We see the investors as one of the company's building blocks and long- term partners, so we have developed a transparent reporting system to update them quarterly on an individual basis. It is important for us to maintain regular contact and personal contact with each investor, always open to discussion in addition to initiating updates from the field.
HGS GROUP believes in first-class professionalism, and strives to work with professionals and leading providers of professional services in Bulgaria. Over the years, we have created a network of relationships with key personnel public figures which gives us a significant advantage in promoting the company's projects.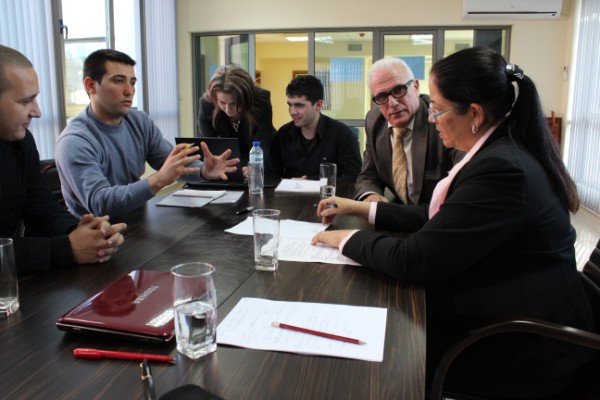 For more information please
contact us
personally to arrange for a personal presentation. We, the whole staff at HGS, wish all of our readers success and enjoyment in your ventures in the coming year.
Barbara Paz
VP Investments
Phone: +972-50-7235981, +972-74-7027024
HGS Marketing offices
10 Plaut Menachem St.
Tamar Rabin Park
Rehovot 7670609