Interview with Vladimir Velkov, the new Economic Attache of the Bulgarian Government in Israel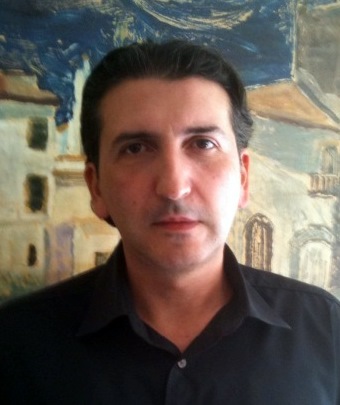 Vladimir, Welcome to Israel. First of all what is your first impressions of Israel?
Before I arrived, I read a lot about Israel and now that I'm here, I watch the news and read newspapers. But even though I'm here for a few weeks, I'm still collecting pieces of first impressions.
I think Israel is a special country. It's a country with very few natural resources other than human capital. Similar to Japan, South Korea, Singapore, Israel and uses its brains to develop its hi-tech industry and has a very strong economy. I'm very impressed by all the incubators, for example, because for Bulgaria the hi-tech area is top priority.
Bulgaria doesn't usually send economic representatives to any country. Our government should be persuaded that there is a good reason to invest money in order to generate and maintain a dialogue between countries and Israel was an excellent target. What Israel has done successfully, is what we're trying to do. So I'm here to develop channels for learning your experience and bringing this knowledge to us.
So what do Israeli businessmen need to know about the benefits of starting a business in Bulgaria?
First, they need to understand that Bulgaria is a window of opportunity to access 500 million people. Bulgaria's uniform laws make it easy to do business in Europe. Bulgaria gives local and foreign businesses the benefit of very low taxation. Bulgaria has a very low tax, 10% on company profits. Businesses can use highly educated and trained human resources without paying high salaries (it's good for business, bad for the Bulgarians, but that's how it is for now). There is a warmth to the Jewish community and full acceptance of Israelis by the Bulgarians. Bulgarian's are very happy that more and more Israelis are coming to do business in Bulgaria.
So how do you promote investments?
We welcome foreign investments in Bulgaria through legislation that gives very good financial and business incentives.
Until 2007 there were "pre-accession" plans which funded business initiatives before implementation of the business. This includes grants and loans. The finance was low, up to 50,000 Euros. After the beginning of the world recession in 2008 the EU changed the structure of EU programs and now they give large grants on the one hand, but under very close supervision on the other hand.
There are 3 Classes of programs: class B provides funding of 5 million Euros for small investments. Class A provides funding of 10 million Euros and includes incentives such as assistance in administrative issues, help with bureaucracy such as the option to purchase property from the state without a tender and more. If the geographical area has high unemployment rate the business gets additional benefits such as additional tax breaks.
The funding program for large investments is called Priority, and it provides 15 million Euros but there are many demands and conditions like creating 200 job places and more. In case of investments of this magnitude, there is no limit on the type of business you want to set up and the government helps even more comprehensively. The government helps in obtaining licenses, finding and funding facilities, resources or property, even when they are privately owned properties.
It is important to understand that if your investment is financed under a EU grant funding program it is under tight supervision throughout the program. There are many forms and reports to submit along with receiving approval of expenditures and activities. It must be noted that you do not get the money in advance but only at the end of the year when you meet the milestones set out in advance. It may be difficult for the entrepreneur in the beginning but it's definitely worth the "free" grant money.
How can Israeli entrepreneurs get information about the financing and grant options?
Israeli entrepreneurs need to work with a Bulgarian consultant specializing in applying for funding programs. The consultant will write a business plan and an action plan, submit the forms to the Treasury, many forms! and in about a month they get an answer regarding the amount of grants and loans they will receive. If you have a good consultant, there's almost no reason that the program will not be approved. If this is a business in the hi-tech industry it's quite sure that you'll get the approval. Like I said, this is a priority for Bulgaria. The hi-tech entrepreneur, for example, receives grants up to 70% of his investment.
Besides Hi-tech, in which areas are you most interested in for cooperation between Israel and Bulgaria?
More important areas for cooperation between our two countries are: education, R&D, health care, agriculture and tourism. For example, we need top quality Israeli professionals to come to Bulgaria to train young Bulgarians in the various hi-tech fields. We need professional training and technological know-how in order to develop and improve our agricultural industry, the same goes for research and development. This is one reason we are happy to offer the EU funding and grants programs as they are designed to help bring foreign investment of all types of industries to Bulgaria.
What's your first goal here?
My first goal was to sign two agreements: one regarding R & D in the private sector and the second is protection of investment in Bulgaria. The work on these agreements had been completed long ago but they were waiting for signature for two years. Now, during Netanyahu's last visit in Bulgaria, finally the two economy ministers met and signed the agreements. Netanyahu encourages this strong economic relationship between the two countries. We have an economic partnership agreement. We are going to sign a cooperation agreement regarding the military industry, an economic committee should start working on this soon.
On the institutional level everything is ready so now we need to take it to the field. So my current goal is to prepare the meeting of the Economic Committee, experts from various fields sit at one table and aim to translate the desire for cooperation into practice.
There are many areas of interest and a lot of work to do, but I hope one day we'll see a two way pipeline, taking natural gas from Israel to Bulgaria and water from Bulgaria to Israel.
I also hope that soon Bulgarian banks will send representatives to Israel, to give information and help Israeli businesses to come to Bulgaria. I also wish that Israeli banks will be established in Bulgaria .
How do you personally, as economic attaché, promote this cooperation?
Bulgarians do not believe in brief conventions or seminars, so it's hard for me to find funding for such activities. So I am doing individual work, each day I meet Israeli companies, I meet with economic journalists.
I believe collaboration will contribute to both sides and will be very profitable for everybody. Not enough Israelis know about all of the opportunities for Israelis in Bulgaria. So I'm here to create the exposure and help Israeli businesses learn about their options for doing business in Bulgaria.